Description
Take advantage of Bulk Buy/Wholesale Discounts and choose a selection of colours for your customers to choose from. Select how many you wish to purchae and when you get to the checkout, leave a message with the colour combination you would like
Current Range:
- Sailor and Ice
- Sailor & Mint
- Lola & Chamomile
- Lola & Mint
- Onyx & Azure
- Onyx & Ice
- Lola & Stone
MEET CRUMPLE
RRP $24.95
The collapsible, leak-proof, reusable, BPA free coffee cup
Every component comes apart for use in the dishwasher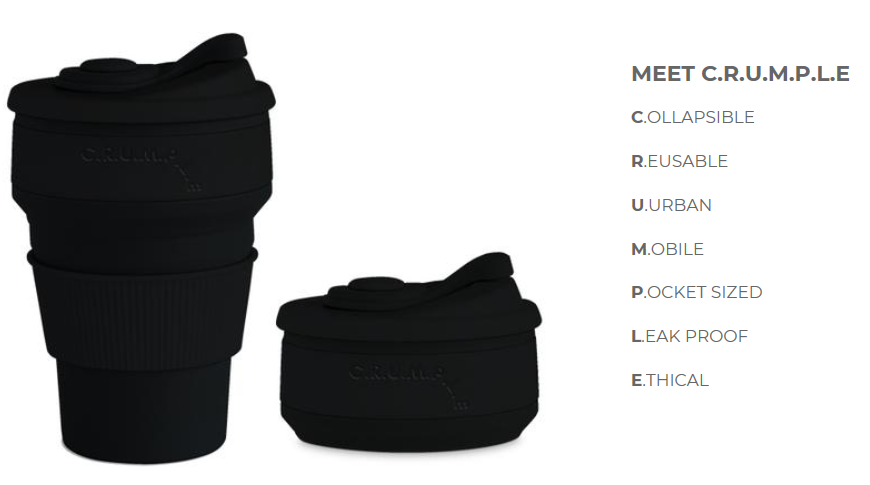 C.OLLAPSIBLE
Collapses to a small pocket sized disc that is perfect for travel, skiers, hikers, surfers, those on the go
R.EUSABLE
Each time you use C.R.U.M.P.L.E you are reducing the waste created by disposable cups that go to landfill, helping planet Earth stay clean whilst keeping our forests stay alive. We donate 10% of profits to charity, offsetting the carbon footprint of our manufacturing and distribution completely, making our business 100% carbon neutral and helping you breathe fresh, clean air.
U.RBAN
Our designers have merged sustainability with cutting edge design for a perfect daily grind experience. Seamless design has created Australia's first urban travel cup.
M.OBILE
Take C.R.U.M.P.L.E anywhere, it's the perfect accessory for those on the go.
P.OCKET SIZE
Small and lightweight, fits into all kinds of small places.
L.EAK PROOF
Unlike other reusable cups, C.R.U.M.P.L.E is leak proof and holds the heat of your drink longer.
E.THICAL
Silicone is made from a mixture of bonded silicon and oxygen. Silicon is a naturally occurring element, making up 28% of the earth's crust. Silicone is tolerant of both heat and cold, and can be used in the oven at temperatures up to 200 degrees celsius. It is inert and doesn't emit fumes, leach harmful chemicals into food or drink, or pose any health risks according to the FDA (Federal Drug Administration).
C.R.U.M.P.L.E, is made in China, using sustainable practices with low carbon footprint.
Reviews
Be The First To Review This Product!
Help other thecafedistributors users shop smarter by writing reviews for products you have purchased.